This is a guest article by Aaron Herman and Martin Page from Kuala Lumpur, Malaysia. Here they examine what they see as changes in the attitudes some have had regarding the management of tournaments and those changes' effects on the overall tournament experience for participants, using Gendermah in Singapore as a case study. They also offer suggestions for future tournament directors about information that ought to be provided to participants before they register for tournaments in Asia.
As mentioned, this is a guest article. The opinions therein do not necessarily reflect those of Asian Ultimate Life, myself (Jared), Jared's Cambodia (and the pandas photographed there), or Agoda (through whom you should book hotels via links on this site[!]). I do support open discussion of issues that affect Asian Ultimate as a whole.
Your comments are very much appreciated. Whether you agree or disagree or just want to add your thoughts, all voices are welcome. I will be moderating the comments though. Every one of them. Emotional argument is fine, but personal attacks will not be tolerated, and will make me think less of you. I reserve the right to edit (noting my edits of course) or delete any comments I deem unfit for this site. If you have questions about this, please drop me a line at jaredcahners@gmail.com.
As today is United States of America Independence Day, I will be unavailable to moderate comments from 2pm today until about noon tomorrow Cambodia Standard Time. So if your comment doesn't go up immediately, that may be why.
Also, if you want to write a guest piece, that would be awesome. I can make it happen. Email me (jaredcahners@gmail.com).
---
Asian Ultimate: A Changing Game
Part 1 – Gendermah 2014: Accountability, Responsibility & Money
The purpose of Part 1 of this report is to inform the ultimate community of issues that arose at the Gendermah tournament this past April in Singapore as well as related matters. It is our goal to ensure that organizational problems like this do not happen again and that future tournaments will be more enjoyable for everyone involved.
In the past few years, tournaments in Asia have had a disturbing trend. This trend had been for tournaments to accept too many teams on too few fields. This creates tournaments with short games and too many byes. It has gotten so bad, that we in Asia now consider it to be normal to have tournaments which will have games that are less than an hour long and have as many (or more) byes as there are games! The reason for this began with the best of intentions. Big tournaments had too many people wanting to play so they shortened the games and added byes so as to include more people. Unfortunately other tournaments copied this kind of format for another reason…money. Tournament organizers saw that by implementing the questionable practice of increasing the number of teams (without increasing the number of fields), and cutting out amenities, they could also increase profit.
We co-captain a men's team based out of Kuala Lumpur (KL), Malaysia. As Gendermah is one of the few single gender tournaments in SE Asia it seemed a natural choice for us to attend. We registered, paid our tournament fee and booked flights for the tournament. To prepare for the tournament we paid for field space around KL and trained each Saturday and Sunday the month leading up to Gendermah.
As the tournament date neared there seemed to be an unusual lack of communication and information. The tournament Facebook page provided nothing but the dates and a rough field location. We did receive one brief email five weeks before the tournament. All this told us was tournament deadlines (for submitting bids and paying fees) and let us know that there would be fruit, water and medals provided at the tournament.
Most tournaments provide a myriad of information months in advance on essentials such as hotels, transport, registration, activities, what\how many teams will be attending, how many fields there will be, how many games to expect, a basic tournament format etc. As of 18 days before the tournament, still none of this had been provided. As we had already invested quite a bit of time, money and effort into this tournament, this was quite disconcerting. Communication is essential to running a good tournament!
Two and half weeks before the tournament an email was sent out to the captains by the tournament director (who we will call by the pseudonym Fred). However this email created more questions than it answered. It informed us that there would be 23 teams at the tournament (despite the fact that organizers thought that they could only fit 5 fields at the tournament site). It let us know that the team fee had been reduced from $500 to $450 and that a partial reimbursement would be given at the tournament if any team had overpaid. We were informed that the only things that this tournament would provide would be…
– BPJ (Bread Peanut Butter and Jam)- ICE- WATER- FRUITS- LOADS OF ULTIMATE !!!!!!!
– LOADS OF FUN !!!!!!!!
Of course there are some obvious questions that come of this. Gendermah would be collecting over $10,000. Why were they only providing water, bananas and peanut butter? Where was the rest of the money going? In addition, why are the organizers promising "loads of ultimate" when they know that they cannot even provide field space for half of the teams? One source who plays on a top Singaporean team, and has direct access to UPA Singapore, has now informed us that of the $10,000 collected at Gendermah, only $2,500-$3,000 was actually spent on the tournament. UPA Singapore has been asked on six different occasions to respond to this issue yet has declined the opportunity. They have said that our numbers may be incorrect but refuse to provide any information on costs until their members meeting in December.
Despite our worries we decided to let it be and trusted that the tournament (now in its 5th year of existence) would be properly run and hoped that our concerns would be alleviated once we arrived. However, after the email mentioned above, another period of silence followed. The webpage was never updated, no additional information was sent. Finally on Thursday, two days before the tournament, 24 hours before our flights to Singapore, Fred finally sent out the schedule (attached below).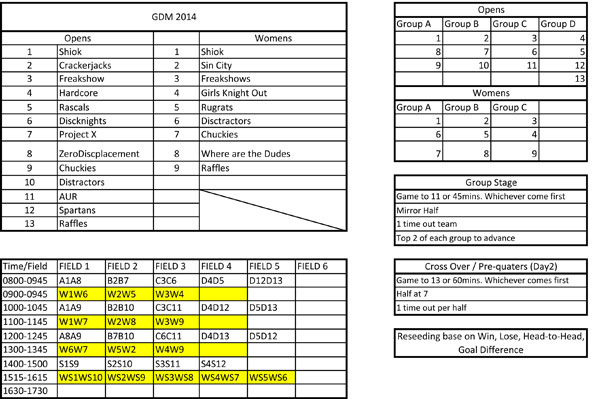 As you can see in the original schedule, that after all the preparation, money and effort our team had put forth, we were going to fly to another country and play a total of two 45-minute games on Saturday. One game from 8am-8:45am, another from noon-12:45pm, and that was the end of the day. One thing that one expects from "for profit" tournaments is that they will at least attempt to do a decent job on the parts of organizing the tournament that do not cost them money. The most important of these things is the schedule and the format. This original Gendermah schedule is by far the worst that we had ever seen.
Every important aspect of running a tournament (with the exception of registering teams and collecting money) had either not been done or had been done inadequately. Now we found ourselves scrambling to help fix things. A captain of one of the Singapore teams took over scheduling and we offered to help. Within a few hours we had put together and sent him the best possible schedule for a tournament that would have 22 teams (one had dropped out) and 6 fields (by making the size smaller they were able to fit a sixth field).
On Friday a new schedule was released yet the problems continued. The new schedule was an improvement, but it still had major issues which we pointed out. We were told that it was too late to correct the problems in Saturday's schedule but that they would look into our suggestions for Sunday. At this point we had done the best we could and got ready for what we had come for, a weekend of ultimate!
By Saturday morning we trusted that the tournament was now in the hands of more capable people. You can imagine our shock at the captains meeting on Saturday morning when Fred, the same organizer who had been responsible for all the debacles leading up to Gendermah, took the lead and introduced himself as the tournament director. We had assumed that the more experienced members of UPA Singapore who had taken over the tournament as of Thursday would be in charge from here on out. At this point, although we knew it might cause Fred some embarrassment, we had to ask the captains if they were ok with Fred proceeding as tournament director. This might not have been the popular thing to do, but it was necessary and had the desired effect. For the remainder of the weekend Fred was to have no apparent role in running the tournament. When asked about this issue UPA Singapore responded by saying "UPA(S) unequivocally stands by the TD for GenderMah 2014 and any error or lapses (perceived or real) by said TD, we consider our own. "
One of the things that was to be provided was water. Even this most basic necessity was not taken care of. We were told to walk to a nearby McDonalds and take water from the tap. This problem persisted on Sunday as well. There was water available for a brief period of time in middle of the day but that also ran out. Having sufficient water provided field side is the most important amenity that all tournaments should provide. On this issue UPA Singapore has responded and taken partial blame. Their reply, in part, states "we do agree that water is an essential amenity and we apologise that we did not ration sufficient water for Day 1 in the first place."
There were roughly 70-100 people coming from other countries for this tournament. Absolutely zero initiative was taken to help out these people that were putting in the most effort to come to Gendermah. There was no hotel information, no transport information, not even directions to the fields were provided without prodding. After the games on Saturday it took us an hour to find a taxi back to our hostel as the fields were in an area of town not frequented by taxis. Even some of the smallest one day hat tournaments have the foresight to help people from out of town with basics like this.
Upon leaving the field on Saturday the organizers still had not decided which format to use for Sunday. The Sunday schedule and game times were not sent out until 10pm Saturday evening! Thankfully, they had decided to use the format we had originally suggested.
On Sunday we were hoping to get some answers to our many questions. Why was Fred given the position of tournament director in the first place by UPA Singapore? When it became apparent that he was not proceeding properly with the organization of the tournament why did UPA Singapore not intervene? Why the lack of information and communication? Why the lack of basic amenities? Why had so little of the money which was collected for the tournament, been spent on the tournament?
It was the response we received when asking just one or two of these questions that peaked our interest. The organizers representing UPA Singapore (who had replaced Fred) were evasive and reluctant to provide answers. We were assured that they would get back to us with answers to our questions. They never did.
We waited more than 2 weeks and still received no answers. Finally we posted a minor question on the Singapore Ultimate Facebook Page. "Does anyone know the cost for renting the West Coast Park Fields for an Ultimate Tournament?" The response to this question was astounding. One of the leaders of Singapore ultimate responded to the post by calling the question's poster an "asshole", which was later deleted. Then UPA Singapore posted a lengthy formal response, without actually answering the question! Why did this mundane question provoke such hostility? All of these problems could have been solved with openness and honesty.
Additional notes =
1. It has been made known to us by multiple, separate sources, that certain Singapore teams are required to pay less money to participate in tournaments than teams traveling from other places in Asia. This despite the fact foreign teams are spending money on flights/hotels and that Singapore has by far the highest per capita income in SE Asia. We cannot confirm at this time if this occurred at Gendermah but it has certainly occurred at previous Singapore based tournaments.
2. We have taken the time to discuss this issue with tournament organizers, team captains, and the higher ups in the ultimate community around Asia. There were two main issues mentioned. The first is the fashion in which tournaments are being run. The second issue is overall lack of spirit of the game (SOTG).
An additional problem is that this attitude is spreading. We are already seeing similar issues with tournaments and SOTG in Malaysia. More and more young players are being taught that this how ultimate should be, and they do not expect anything more. People in the ultimate community are aware of this problem, but until now, little has been done about it. We in the Asian ultimate community need to work together, post issues publicly and insist upon a certain standard in tournament organization (and SOTG) throughout our continent.
3. This report has already been sent, in its entirety, to UPA Singapore so as to give them a chance to assist and to make sure all facts are accurate. They have responded, and significant alterations have been made to this report due to their clarifications. We thank them for their assistance. To their credit they took partial responsibility by stating
"we do acknowledge that we were slow to provide useful information such as public transport options to the field and the location of budget accommodation, which would have benefited players flying in from overseas. Similarly, we fully appreciate our failings in sending out the fixtures earlier than we actually did. We agree that there were lapses on the part of UPA(S) in these two aspects and we will ensure that such errors are not repeated for future tournaments. We sincerely apologise."
Part 2 – For Profit Ultimate Tournaments: When the Goal is the Bottom Line
The purpose of this section is to:
1. Explain how the emerging issue of Ultimate tournaments being run for profit has created a situation in which all tournaments must now supply certain essential information before registering players and collecting fees.
2. Educate the consumers (ultimate players) so as to be able to better decide which tournaments to spend their money on.
If Gendermah was an isolated incident then it would be one thing. The problem is that it is not. It might be an extreme case but there are many other tournaments that have profit as a main goal. "For profit" ultimate tournaments are here to stay.
In the past, if an established tournament was being run by an experienced organizer, then there was no problem registering and paying in advance as one could trust that the money would be put to good use in order to provide us with a solid tournament. When attending such tournaments it was as easy as handing over whatever money that was asked for because one knew that the organizer's primary goal was putting together a good event.
Unfortunately, things have changed. New tournaments are popping up every day due to the allure of over trusting ultimate players handing over money without asking to know what they will be getting in return. If a tournament is trying to make money then it becomes a product which is being sold. We must assume that organizers will make decisions as a business would, in order to increase profits. The overall goal of many of these tournaments is no longer primarily to provide a good tournament, but to sell a service. As a result, one can no longer pay in advance without knowing what they are purchasing. It is now necessary that tournaments provide potential registrants with basic details so that they can make an educated decision as to whether the tournament is worth their time and money.
It is difficult to clearly define what exactly makes a tournament "for profit" versus "not for profit." Due to this, the only practical solution is that all tournaments must be required to provide certain information before opening registration and accepting money (see Part 3).
As members of the ultimate community, as well as educated and responsible consumers, we must insist this information be provided, and not blindly give our money away with no assurances as to what we will get back. The fact is that when having a "for profit" tournament it is sometimes in the interest of the organizers to sacrifice the amount of ultimate played and things which the tournament provides, in favor of maximizing earnings. If organizers of tournaments provide all relevant information before collecting money and players insist on this information before registering and paying, then we will see a huge improvement in tournament quality. There are now so many tournaments to choose from, let's make sure the ultimate community has the right information in order to choose the best ones!
Part 3: Information That All Tournaments Must Provide Before Collecting Registration Fees.
1. How many full size fields will there be? If space is a problem and fields will be smaller that official size then this should also be mentioned.
2. What will be the maximum number of teams that will be accepted?
3. What is the maximum number of players which will be allowed per team (for hat tournaments only)?
4. How long will games be?
5. How many games will there be and how many byes will there be per day?
6. What additional amenities will the tournament provide? Shirts, discs, parties, meals, drinks, ice, massage, food and any other significant costs should be listed.
7. Will there be drinking water available field side for the entirety of the tournament?
8. Health and Safety Information – Will there be Medical Personnel? First Aid etc…?
9. Information for Non-Locals – Will there be logistical details and aid provided for players who are not local? These might include transport options, accommodation options, transport to\from the fields, hotel discounts etc…
10. What will the profits be used for? This is optional but sometimes this could actually encourage registration if profits will be used for a good cause. Even if the profits are simply going to support the organizers Ultimate team or association it is better to be open.
11. Any other relevant information on the tournament. Make sure that your consumers know what they are buying!
NOTES –
1. For certain items such as "Health and Safety" and "Information for Non-Locals" it is not necessary to have all the details listed at the time which registration is opened. Simply stating what will be available, and then providing details at the earliest time possible is sufficient.
2. For additional amenities, it is not necessary to list everything the tournament will provide however it is in the best interest of the organizers to tell the major things that the tournament will have. This will increase registration as people will see that they will be getting better value for their money.
This report has been written in hopes of educating, informing and aiding the ultimate community of Asia at large in order to provide a better experience for everyone while enjoying this wonderful game which we all love.
-Aaron Herman and Martin Page
---
Stay tuned to the Asian Ultimate Life facebook page and follow @asianultyblog on the twitter to see what's new on AUL.