Tournament Results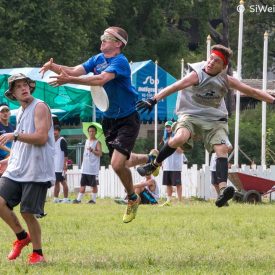 Here are my reports from Run to Taiwan, Beijing Bowl, and Mekong Cup. Enjoy. Follow us on Twitter @asianultyblog and on facebook at the Asian Ultimate Life Page. If you want you tournament featured in the podcast or on the site, gimme a shout at jared@asianultimate.com.
Podcast: Play in new window | Download

September 3-4, 2016 Taichung, Taiwan This write-up is brought to you by Taiwan's Cheng Yi-Shan with a little editing from me (Jared). It sounds like it was a great, competitive tournament and looks to be a great addition to the Asian tourney schedule. The first Run to Taiwan was held on […]

Wondering what's been going on up in the Korea League? Here beloved veteran contributor Thomas Capranica reports on where things stand halfway through the league season. If you want to write for Asian Ultimate Life, and maybe even become a "Veteran Contributor" someday, drop me a note at jared@asianultimate.com. All Asian languages and most subject […]

This is a very exciting piece for me to post. Not only is it a guest piece, which I love because it shows other voices in the Asian Ultimate scene, but it is also the first non-English language piece on the site.kahovka-service Asian Ultimate is a community that shows great love for one sport in […]


This week's podcast features interviews with Sumesh Kannan, the captain of Flywild, one of the top clubs in Chennai, India, and Manix Narayanan, the incoming president of the Ultimate Players Association of India. This week we focussed on Chennai Heat and what Ultimate has meant to the Chennai community.
Podcast: Play in new window | Download

This week we wrapped up BARA Single Gender, Mekong Cup and Turn Up Taiwan. To do so I spoke to Yasmin in Brunei, Piet in Bangkok and Austin in Taipei. Next week we'll talk Cambodian ultimate with Sok Heng and Vutha Va. Stay tuned for Asian Ultimate Life updates at our facebook […]
Podcast: Play in new window | Download

$3000. The organizers of the 2015 version of Zone Cup decided to double the stakes this time. $3000 would go to the tournament champions. The difference between $3000 and the $1500 from the previous December is a cut for more players on the roster or a profitable as opposed to just a discounted tournament. What […]

For those who were there, these are my takes on the weekend. If you disagree, reply below, or just be wrong all alone. For those who weren't there, here's what you missed. Welcome Party:     (cue tumbleweeds) Venue:     Turf City is an expansive venue that offers a large number of […]

Каким должен быть хороший проект дома. Shanghai, China June 5-7, 2015 Here are the A Division results as I remember them with videos below… Beijing Big Brother Hong Kong Junk Taiwan Blue Magpie UFO Chairman Xiongmao Shanghai Huwa Laohu Pride of Dongguan Junk def Big Brother Junk def Blue […]