As I told those who asked, my 7 Weeks adventure of earlier this year included five tournaments and one "beach clinic." Beach clinic? Yes. Beach clinic. It was awesome. Members of the Phnom Penh Ultimate community, including our local youth team (SWA), students from the Liger School, and Phnom Penh Ultimate Association regulars, met up with ultimate lovers representing two areas of Kampong Cham province. We came together on a flat sandy area left by the dry season recession of the Mekong right next to Kampong Cham town. Beach ultimate in the middle of Cambodia!
The afternoon we arrived we played a short hat tourney and the next morning we (mostly SWA actually) ran clinics for the newer players.
Here's Kai Miller's take on how things went down. This comes from Camsports Magazine, Cambodia's top source for national and international sports coverage. English and Khmer. Click to see full size.
(Part 2 will feature my own photos and video. I promise…)
---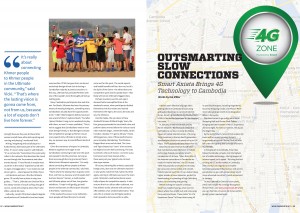 ---
---
Follow the Asian Ultimate Life facebook page and @asianultyblog to know what's going on around here!