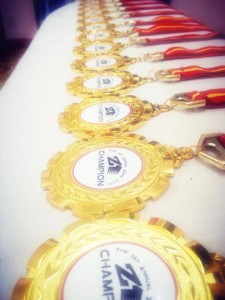 berryjam.ru
December 13-14, 2014
Ho Chi Minh City, Vietnam
The recently-completed Zone Cup in Ho Chi Minh City, Vietnam exceeded all expectations, though expectations were not all that high going in. Vietnam's first foray into "elite" team ultimate offered a $1500 cash prize put up by Zone Sportswear. With the date announced late, then changed to the weekend right before the annual Vietnam Hat, though, only six teams registered.
But through hard work by the organizers and great energy brought by the players, Zone Cup was a big success.
Here is some of the on- and off-field action:
(The scoring statistics and analysis for Zone Cup can be found here)
Friday Night: The festivities began with a non-event and a replacement event. The tournament organizers announced that there would be no Friday night party. For those of you not familiar with Asian ultimate… this is madness! In response to this lack of a party, some folks decided to make things happen anyway. Leading the charge was Monsoon's Aaron Herman. I assisted in deciding the theme (cheap buckets of booze) and the location (Lyly's on De Tham).
In the early stages the event was mostly populated by Swarriors, but eventually a crew of Halo Halo players, keen on celebrating graduations and their single lives, rolled in and started making waves. Rounds of tequila shots were ordered and other offerings in the area were taking advantage of as well. Love was in the air.
Fun was had until late and Halo Halo were situated perfectly to claim friday night party victory, when… they disappeared. Into the night they went, leaving Swarriors to finish the booze on their table.
Official result: Swarriors/Halo Halo win Friday.
Saturday:
Saturday began round robin play among the six teams. These teams represented a wide spectrum of experience.
K was a Jason Lopez-led ringer team hailing mostly from Singapore but featuring players from Malaysia, Vietnam and elsewhere as well.
Spoilers fulfilled Alex Tat's dream of having a Canadian-themed ringer team and featured players from throughout Southeast Asia as well as Canada and the US.
Halo Halo was another ringer team led by the formerly-Vietnamese Lien Verdeprado and featured Reko. That is all you need to know/Ngo.
The Swarriors were a half Cambodian/half expats living in Cambodia squad with a lot of athletic ability, though comparably little tournament experience.
HHH hosted the tournament. They are a team of younger, very quick, Vietnamese players and a strong group of females.
Monsoon was the team for the players that brought their cleats and love of ultimate, but not a team. The pick-up team featured some quality players including Malaysia's favorite son, Aaron Herman, and the Pohang Spinner, Brian Nguyen.
(Note: I didn't see all the games, but I'll tell you what I know. And sorry, I know more about Swarriors games than any other teams. When I don't know how a game went I reserve the right to make stuff up)
The tournament began with the two tournament favorites victorious. K defeated a short-handed Monsoon 11-1. The other matchup had significance as, looking forward in the schedule, it could have been for the number two seed and a bye in the sunday bracket. Spoilers took down Halo Halo 9-5. Brandon from Chiang Mai led the Spoiler attack on the scoring side with 3 goals among a generally well-spread out attack.
The next round had the two favorites play their second games in a row against the two "local" teams. K allowed only their second goal in two games in defeating the tournament hosts, HHH, 11-1. In the other matchup, the Cambodian Swarriors fought hard and put up a great fight against the Spoilers, eventually falling in defeat 11-3. Dyno led the Swarriors, throwing two scores to John Allen, and receiving the other from Heng. The Spoilers were paced by Vu Tattoo, the fearless owner of Zone, with 3 assists, and Dan Bower, another spin cut devotee, with 5, yes 5, goals.
Round three would end the morning session. Halo Halo defeated an improving Monsoon 11-3. In the other matchup, the local teams faced off with the Swarriors battling HHH. These teams knew each other. HHH had visited Phnom Penh to compete at Mekong Cup early in the summer. There they faced the Warriors, an expat team made up mostly of foreigners living in Cambodia (HHH won) and SWA, an all Cambodian team made up mostly of men's players from Phnom Penh and women from Kampong Cham province (HHH won in pool play. But SWA took the rematch in B pool finals). Now HHH faced the combined Swarriors (see what I did there?). HHH took this matchup solidly 11-7. Dyno kept rolling for Swarriors scoring 4 of their goals, while John Sarmiento and Cuong each had 4 assists, and Canh and Trissy added 4 and 2 goals respectively for HHH.
Lunch. Dunno if it was good or not. I don't eat lunch at tournaments.
The fourth round brought the favorites back out onto the field. Spoilers donated a couple players to Monsoon to make the game a little more competitive, defeating them 11-3 in the end. On the other field K took down Halo Halo in impressive fashion 11-5.
The fifth round got the crowd more interested with a couple of rather competitive games featuring the local teams against two teams playing their fourth games of the day. On field one, the Spoilers were successful in the last game of their day edging out the quick tourney hosts 11-6. Zhuang led the Canadians in assists, throwing 3 and Dan Bower added 3 goals. Vu, neither the tattoo nor the traveling variety, led HHH on the stat sheet with 3 assists. On the other field, Halo Halo fought Swarriors. This was a close game throughout until Halo Halo's experience overcame Swarriors' desire 11-9. Drian threw 6 of his tournament high 18 assists in this matchup. Swarriors were paced by their "big 3," Heng, Dyno, and Nara, who threw all but 3 of their team's assists and scored all but one of their goals.
The final round of the day brought a good game and another game. On one field, Swarriors came off a very emotional loss to Halo Halo, not at their best and were not able to score against the very quick tourney favorites, K. On the other field the tourney hosts, HHH, could only beat the improving Monsoon squad 9-7. John threw 3 goals and Canh caught 4 for the victors. Aaron threw 4 goals for Monsoon.
Saturday Night:
A "gala" dinner awaited the tired players at Grill Republic. An array of meats, seafood and beer helped heal muscles and sore egos. Over rum, a few party organizers decided to move the affair to Universal on Bui Vien, where we commandeered the second floor. Towers of beer arrived full and departed empty. Their dominant first day did not mean that K would not try to gain an advantage saturday night. Correctly seeing the Swarriors as their toughest competition going into Sunday, they set an attractive young Malaysian player to bat her eyes at the Cambodian boys while they poured beers down their throats. The Swarriors coach was able to resist the eye-batting just long enough to send the Cambodian kids home to bed.
Meanwhile, more towers came and left. A small group of partiers moved onto the next spot. Booze and foos at Boston's. A couple folks moved on from there. Official result:
Swarriors/Halo Halo win Saturday night.
Sunday:
Going into Sunday all six teams had one more round robin game to play.
On field one, Halo Halo defeated their extra H-having opponents HHH 11-5. Drian threw 4 more assists while 9 different players scored goals for the visitors. Elsewhere, the Swarrior vs. Monsoon game was a battle. Monsoon ran a split stack that depended on a short passing game that worked impressively well for a pick up team. They hung with the Cambodians for a while before going down 11-5. Heng paced the Swarriors throwing 5 of their scores. On the other side of the disc Monsoon's balanced attack saw five different throwers throw to five different goal-scorers.
The last round robin round saw the two tourney favorites, both having earned the byes into the semifinals, face off for the overall one seed. The winner would face the winner of HHH and Swarriors in the semis as opposed to a tough Halo Halo team (assuming they would get by Monsoon). Both teams wanted this game. Honestly I didn't watch much of it, though, as my focus was on preparing for our HHH battle next round. From what I saw K and Spoilers battled throughout. In the end, K, pulled out an 11-10 victory. Fabian threw 3 scores and caught 3 more for K with KuoHsun adding 4 assists. Spoilers continued their balanced play with 10 different players scoring their 10 goals and no one with over 2 assists.
With the round robin done, the knockout stages began. Quarterfinals involved the four lowest finishing teams playing to go to semifinals. On field two, Halo Halo got past Monsoon 11-3. On field one was the rematch between old rivals HHH and Swarriors. This game was played with an intensity unmatched by any of their previous encounters in Vietnam or Cambodia. The scores stayed within a point of each other well into the game. The quick HHH women gave the Swarriors trouble. With HHH moving down the field late in the game with a chance to put the game close to out of reach, though, Sophoan came through with a monster layout block to give Swarriors the disc and a chance to stay in the game, which they converted. Down 8-7, Swarriors scored on the soft cap horn to tie the game at eight in a game to 10. The Swarriors were able t0 dig deep and score the next two points to defeat the tourney hosts 10-8 and move on to semifinals. The Swarriors' "Big 3," Heng, Dyno and Nara assisted on 8 of the Swarriors' goals and scored 6 of them. The HHH attack included 8 goals by 8 different throwers and to 6 different receivers.
The semifinals were hard fought affairs. On field one, Halo Halo battled Spoilers. I don't know much about this game except that Halo Halo finished with their heads up high after a close 13-9 loss. Reko led Halo Halo with 3 assists. The Spoilers continued their balanced attack with no player accounting for more than 2 assists or 2 goals. On the other field tournament favorites, K, faced Swarriors. When they played the day before, Swarriors were coming off an emotional game against Halo Halo and then put up a goose egg against K. One day later Swarriors were coming off an emotional game against HHH and matched up against K again. This time, though, Swarriors came out differently. They took the opening pull and scored. The Swarriors led! This got me excited. The rest of Swarriors, while having fun, were not as excited. They were just running hard. K scored to tie the game. Then Swarriors scored two more. Why not? K scored one and called a time out. Swarriors had played with a lot of heart. K went on to score the final 11 points of the game, but Swarriors had a number of shots to score and were super aggressive on defensive. It was a great day for Cambodian ultimate.
Finals. As expected we saw K against the Spoilers. They had played a tight pool play game in the morning so the crowd got ready for another battle. The amount of beer outpaced fan desire. Asia's favorite finals announcer was on the microphone. And pull was up. On the stat sheet this game wasn't as close as the last. K ran out to a large lead before Spoilers were able to tighten the game up a little late. On the field, though, the game was a lot tighter. It was really a few Spoilers mistakes that made the difference. K was not a team that would mistakes go unpunished either. Stray throws were cleaned up by a swarming K defense and were turned into scores. 13-9 was the final score in K's favor. Ben Ho led on the stat sheet for K's men with 4 assists and 2 goals in the finals. Ida, Joanne and Christina all added a goal and assist each. Spoilers finished how they started, with a balanced offence in which no one had more than 2 assists or 2 goals. June led the team on the stat sheet with 2 of each.
The Asian Ultimate Life Finals MVPs were Ben Ho and Christina Hunter from K.
In seeding games Halo Halo defeated an exhausted Swarriors squad 10-2 for third and Monsoon upset HHH 7-5 for fifth.
With the games done, the champs were given their medals and their $1500 prize money. With 15 $100 bills and 14 players, K generously donated their last $100 to the Cambodian Ultimate player development program. Thanks to them and to all the others who donated over the weekend. You all are great.
The weekend ended with Mexican food, massages, a bad cover band and street beer in varying combinations for different players.
Congratulations to the tournament organizing committee and thank you to Zone for a great weekend!
All mistakes above are mine alone, but I reserve the right to blame others anyway.
Need more? Check out the scoring stats and analysis for Zone Cup 2014.
Tournament highlight video:
Team Photos:
(Stolen from facebook and used according to my personal photo usage policy)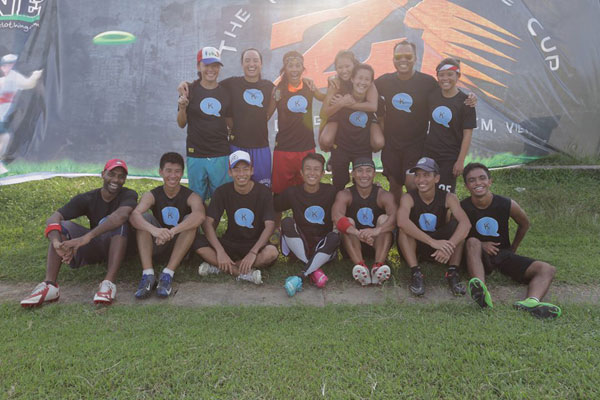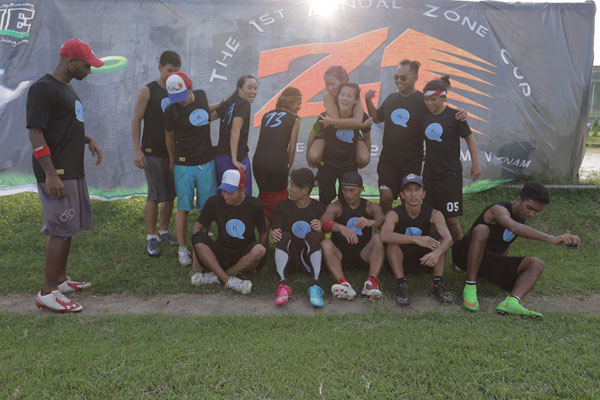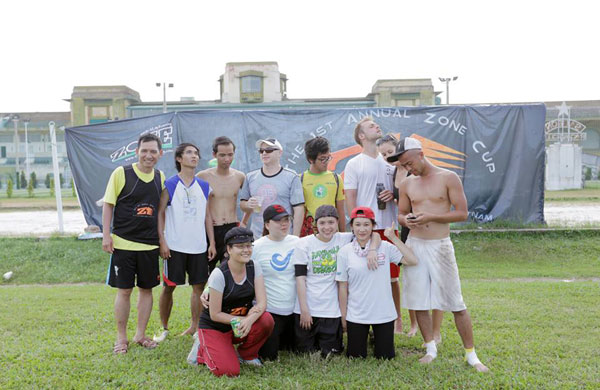 Follow @AsianUltyBlog and like the Asian Ultimate Life Facebook page for more content…